Awesome products for iOS and Android. We put the FUN in Funky!
Jiggle Balls
Stuck in line? Need a break at work? Kids need something to play with? Well... why not jiggle some balls? Jiggle Balls is a "visualization" that will help you pass the time away!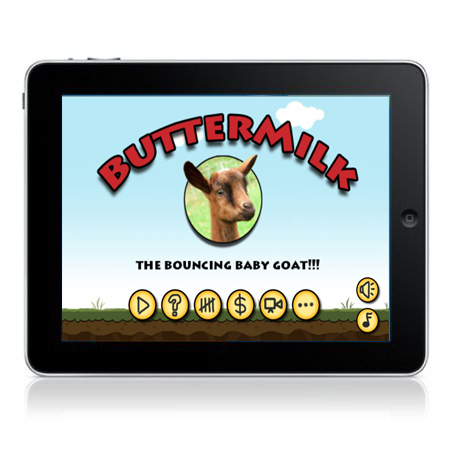 Buttermilk The Bouncing Baby Goat
You've seen the Internet phenomenon with over 8 million views! Now you can play with Buttermilk the bouncing baby goat on your Android or iOS device!
Jiggle Balls Studio for iPad
The smash-hit for iPhone and iPod Touch is now available for the iPad! Jiggle Balls Studio is the specially designed iPad version. Better graphics, more sounds, more ball types, more backgrounds, and a whole new menu system. This app is fun for both kids and adults!
 
Tramp Stamp
Tramp Stamp Incorporated needs your help! Thousands of boxes need to be stamped before leaving the warehouse. Use the trampoline to propel yourself high enough to stamp the boxes as they move towards the loading dock. Each stamp renews your power. Miss and you'll lose power. How long can you stamp before running out of steam?
Jiggle Balls Spikes
The balls are back in town! Jiggle Balls: Spikes! is a new game by the makers of Jiggle Balls. You control SPIKEY the big purple ball. Your goal? Smash the JIGGLE BALLS before time expires. Your weapon of choice? GRAVITY!